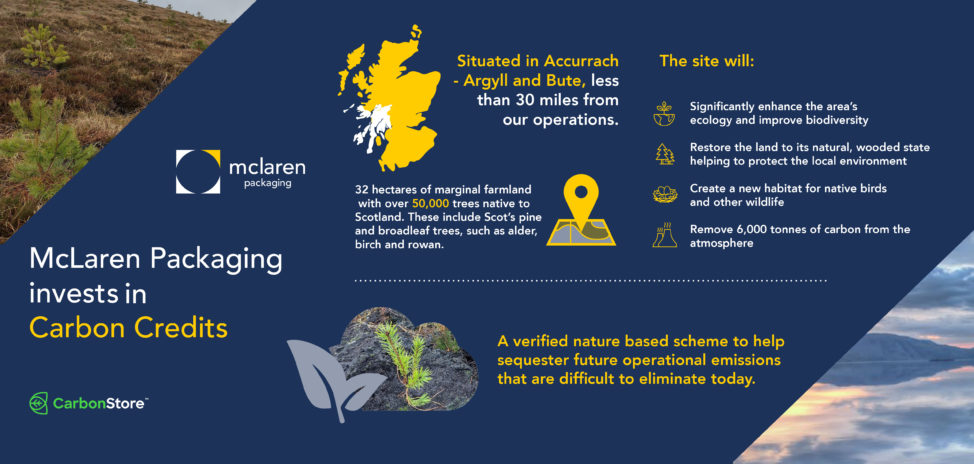 McLaren and CarbonStore unite to unpack a sustainable future

Working together with industry-leading woodland carbon offsetting business, CarbonStore, in partnership with the UK's leading forestry company, Tilhill, the successful project delivered a newly planted woodland which will help offset McLaren's residual carbon emissions.
Accurrach is located just north of Inveraray, Argyll and Bute, and covers 32 hectares of what was previously marginal farmland.
The young woodland has been planted with over 50,000 young trees native to Scotland. Species include Scot's pine and broadleaf trees, such as alder, birch and rowan. The planting will significantly enhance the area's ecology and improve biodiversity.
Historically the land had been used to graze sheep and cattle. The opportunity to secure carbon funding from tree planting encouraged the farmer to diversify and plant up the less productive elements of his farm with trees.
The restoration of the land to its natural, wooded state will also help protect the local environment, creating new habitat for native birds and other wildlife through the careful management of the new woodland.
The significant investment being made by McLaren Packaging in reaching its net zero target by 2050 helped to kickstart the planting of the area.
Michael McLaren, the company's Director, said of the project: "McLaren Packaging is committed to the United Nations' Race to Net Zero. This project is another crucial step towards us being able to halve our emissions by 2030 and achieve Net Zero by 2050.
"The Accurrach project will allow us to offset future operational emissions, such as from the use of natural gas for heating and diesel for transport as well as emissions from our employees' commutes to work and business travel, which are currently difficult to avoid.
"We believe emissions should be sequestered where they are created, via a verified nature-based scheme, which is why we have invested in woodland creation in Argyll & Bute, less than 30 miles from our production sites in Port Glasgow. Not only will this help minimise our carbon footprint, it will also help our customers achieve the same."
McLaren has already invested in a woodland creation project at Millhouse, a 34-hectare woodland capturing 9,000 tonnes of carbon located 30 miles south of its latest purchase.
Together, the planting of the two woodlands have brought jobs and economic activity and a myriad of other benefits to a remote area of Scotland. The two woodlands combined will remove from the atmosphere approximately 15,000 tonnes of carbon in the coming decades and help to invigorate Scotland's natural heritage and beauty.
CarbonStore ensured the sale of the carbon credits was a fair, smooth and efficient process for both parties. David McCulloch, Head of CarbonStore, said of the sale: "It has been a pleasure to support McLaren's purchase of the carbon credits at Accurrach delivering a win for all parties involved.
"The environment, nature, wildlife, the local community and the woodland's owner have all benefited from McLaren Packaging's environmentally oriented efforts and will continue to do so for years to come."
The project is regulated by the Woodland Carbon Code, which insists on the highest standards of woodland creation and management to ensure emissions are accurately matched against offsets.


To find out more about Carbon Stores visit: https://carbonstoreuk.com/