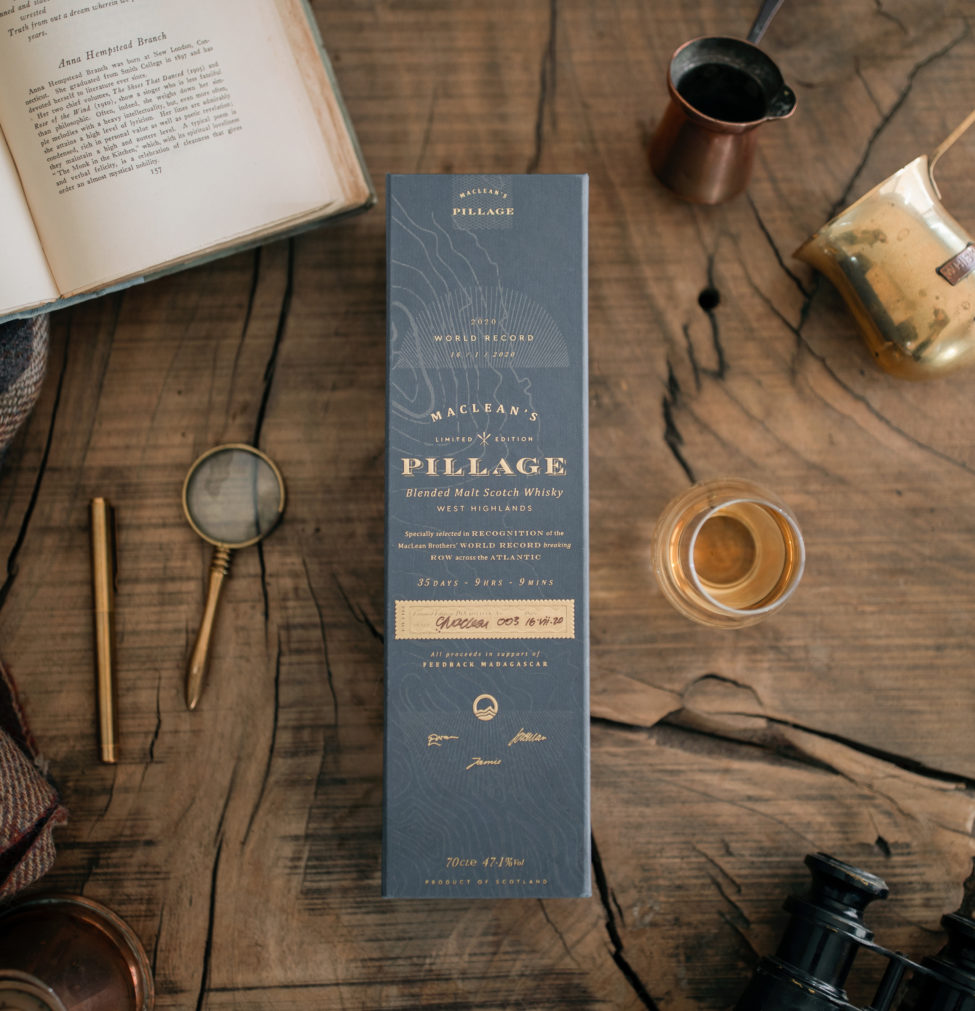 Blue Box Design whisky packaging highlights sustainability while raising funds for Atlantic-rowing brothers' charities
Blue Box Design, the Stirling-based specialist in the design and manufacture of bespoke presentation boxes for the UK food and drink sector, has produced premium whisky packaging to highlight sustainability and raise funds for record-breaking Atlantic rowers the MacLean brothers' chosen charities.
MacLean's Pillage and MacLean's Spillage aim to highlight the need for sustainable production and packaging to help counter the environmental damage caused by plastic packaging waste in the oceans, as witnessed first-hand by the MacLean's in their 3000 mile cross-Atlantic row, with the ultimate goal of raising funds for Feedback Madagascar and Children First.
The initiative follows the sponsorship earlier this year by Blue Box Design's sister company, McLaren Packaging, of the MacLean brothers' time in the Talisker Whisky Atlantic Challenge when Ewan, Jamie and Lachlan MacLean set three world records after rowing the Atlantic in just 35 days, becoming the first three brothers to row any ocean, the youngest trio and the fastest trio to ever row the Atlantic, finishing third overall (first among trios).
Lachlan MacLean said: "As part of our training for the cross-Atlantic race, we rowed regularly up and down the west coast of Scotland, visiting various whisky distilleries en route, which kindly donated whisky which our father, together with a master blender, used to produce these whiskies, all proceeds from the sale of which will be donated to charity.
"Having seen the devastating environmental damage caused by plastic packaging waste in the oceans first-hand during our cross-Atlantic row our aim is to highlight the need for sustainable production and help raise funds for our chosen charities by auctioning off these two fantastic whiskies."
The packaging produced by Blue Box Design for the unique whiskies is paper-based, plastic-free, 100% recyclable and is designed and manufactured in Scotland, saving on unnecessary CO2 emissions caused by the importing of packaging products from across the world.
And that sponsorship sprung from the fact that the MacLean brothers' father – celebrated whisky historian Charlie MacLean – helped McLaren Packaging founder Jim McLaren (company directors and brothers Donald and Michael McLaren's late father) pen his autobiography.
Michael McLaren, Sales and Marketing Director, McLaren Packaging, said: "This unique collaboration has developed from a shared concern to create and package a premium whisky product in Scotland using Scottish ingredients with strong sustainable and environmental credentials at a time when the need to do more to protect our planet for future generations has never been more urgent."
Just 168 bottles of MacLean's Pillage, a blended Malt, and 299 bottles of MacLean's Spillage, a blended Scotch, will be available. The rarity and high-quality of the unique blends has prompted Edinburgh's Royal Mile Whiskies to prepare for a rush of interest from collectors across the globe.
The whiskies are available from www.royalmilewhiskies.com

ENDS
For further information please contact Michael McLaren on 01475 745246